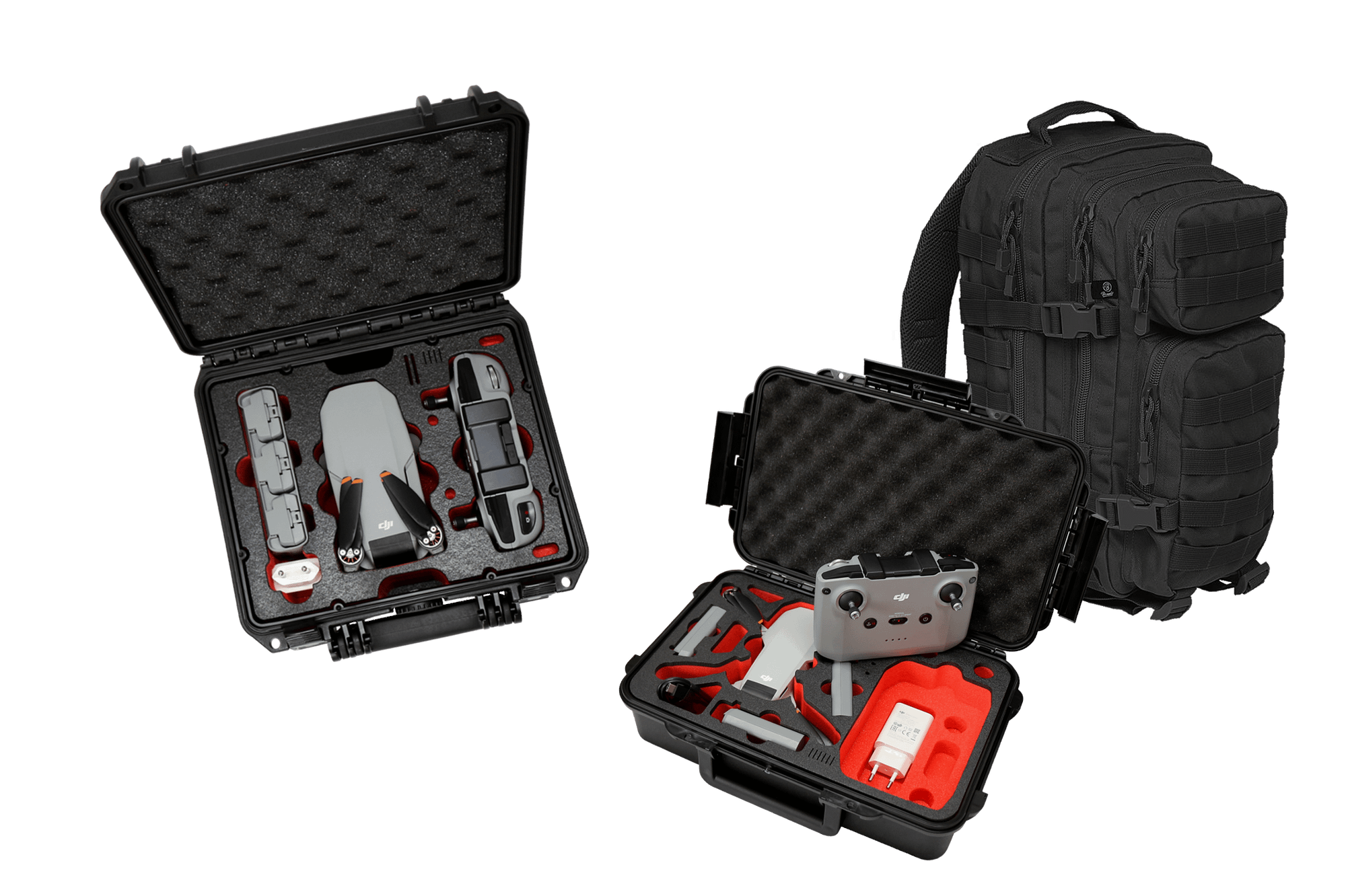 PROFESSIONAL DRONE CASES, ETUIS AND BACKPACKS
for DJI Mavic Mini 2 and plenty of accessories
waterproof drone case Mavic Mini 2, compact etuis and flexible backpacks are offering highest comfort combined with flexible using

with high-quality inlays made from rigid foam with fine pours, precisely cutted for a maximum of protection during transport and whilst being stored
Professional drone case for drone pilotes of Mavic Mini 2
The smallest model is XT004 "Smart Edition" etui case designed as "ultra slim". The waterproof case is with 650g empty weight particularly handy and very flat designed to be stored nearly everywhere. Despite these facts there is enough space to store the Mini 2 drone in ready-to-fly mode (with mounted propellers and with or without original gimbal protection stowed in the case), 3 additional flight rechargeable batteries and small accessories.
The XT235 "compact edition" outdoor case is the next larger drone case. It offers compact handling combined with a maximum of space for Mavic Mini 2 (folded) with mounted propellers and with or without gimbal cover. The inlay is usable multifunctionaly and can store Fly More Combo (without propeller protection) and up to 7 flight batteries. Another highlight is the "charge in case": the 3-fold charging stroke can be equipped with batteries and charged lying in the inlay. The case is optional available with a compartment inside the lid foam.
The youngest member in our product range is "Mavic Mini 2 Backpack Small". This professional outdoor backpack combines comfortable functions of a drone case with a sporty-urban design in a practical size (hand luggage). This size assures an optimal mobility of your hands. Due to the various possible uses and that much storage space – for complete Fly More Combo and more, this backpack is perfectly suitable for the next trip. The main compartment of the drone backpack can be opened completely and is equipped with an inlay of rigid foam with fine pours, which is well adapted to Mavic Mini 2 and its equipment.
The robust backpacks are made of polyester and are covered with PVC which makes them especially resistant. Therefore this backpack is water-repellent but not waterproof. The backpacks are characterised by their space allowances and due to the daisy chains which are installed at the front they are categorized to the "Modular Lightweight Load-Carrying Equipment" (named MOLLE-system). So it is possible to install further additional bags and holding systems for bottles, sleeping bags, signal lamps or different outdoor equipment. The unisex drone backpack offers due to its compact but considerable size a wide range of using situations beside the drone transportation. Beside the foam inlay in the main compartment also the second main compartment can be packed with many useful equipment. Additional there are two practical front bags. The named compartments are equipped with safe two way zips and partially with organizer, net compartments and loops for keys, pens, carbines and more. The back of the backpack, the removable abdominal belt and the adaptable shoulder straps are formed ergonomically, padded and breathable and due to that the backpack is suitable for longer expeditions. The volume control and the luggage fastener by lateral compression straps complete the overall concept.
High quality rigid foam with fine pours will keep your expensive drone equipment protected, securely stored and ready for transport at all times.
The case is made from shock-resistant polypropylen, which meets German military standard and assures you a safe transportation by car, plane or train.
The label "STANAG 4280 – DEF STAN 81-41" awarded by NATO makes these cases suitable for usage in a variety of situations where a high-class resistance against shocks and atmospheric impacts are required. These areas include: photography, outdoor sports, military, any special use, broadcasting and the manufacturing industry.
The outdoor case is suitable for temperatures from -30°C until +90°C (-22°F until 194°F), it meets the IP67 standard and is therefore 100% dust-, air- and waterproof.
This hardcase is break-proof and comes with a double-back locking system to install padlocks. Also included is a padded carrying strap. Stable hinge joints run the entire lenght of the casing making the case extraordinaryly solid. These contain special pins made from nylon and glass fibre which guarantees protection against corrosion. An automated equalising valve makes the case suitable for transportation by plane. Carrying comfort is easied by an ergonomic soft-handle.
Closest to our heart is "Custom made" perfection. That is why we combine the high quality of workmanship made in our own region (no import from Asia), with value for money and an efficient delivery service. You choose from different colours and flexible, multilayered foam inset.
We would be happy to produce individual inlays well adapted for your product.
ITEM DESCRIPTION, CONTENTS LIST, TECHNICAL DATA
BUILT TO PROTECT
TOMCase at Lake Constance