Perfect protection and a maximum of comfort with a drone case from TOMcase – made in Germany! The hard-wearing cover of the robust hard-top case is built up of break-proof polypropylene and protects your equipment not just for damage in transit. Configured for a temperature range from -30°C (-22°F) to +90°C (194°F) this attendant lasts unbearable heat and severe cold. The outdoor cases are IP67-certified and thereby 100% water- and dust-proof. Every drone case is equipped with solid frame joints which last over the full length of the case, robust and innovative 2-way-hinged breech blocks and boreholes for padlocks or cylinder locks for a maximum of safety against theft. The resilient handles make for a high wearing comfort. For the bigger cases we offer the useful trolley. Equipped with durable rolls and robust telescopic handle it is the case which is the most user-optimizes one in its product-class. A fully automated equalizing valve makes the case capable of flying and completes the product. That case protects your valuable equipment, stores it properly and makes it transportable at any time!
To make things better: here comes the core of the case: the inlay. It is made of custom-made rigid foam, which is cutted precisely for the shape of your product and accessories by sluicing. In the process we attach importance to an optimal ratio between protecting foam and a maximum of storage space. Due to multipart inlays and individually usable spaces the case adapts itself to your needs. Here we set value on innovation and quality. For example the recharger are stored horizontally to avoid cable breaks, or gimbal and propellers are kept free to avoid damage of one-sided pressure. The particular treatment of surface makes the rigid foam still more hard-wearing and prevents scratches and dirt. Everything fits perfectly in the designed spaces and can be unbagged easily. Additionaly there is a cushioning knob foam integrated in the top of the case.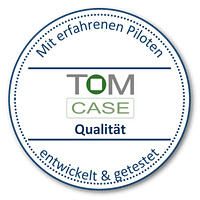 First class cases for drones (e.g. DJI) as cabin baggage or useful trolley for the safe transportation of copters, selfie drones, gimbals and more. Every used materials are made for continuous operation and high quality processed. TOMcase offers exclusively top quality in an unbeatable value for money. This offer and further conceptions can be found in drone cases of TOMcase.