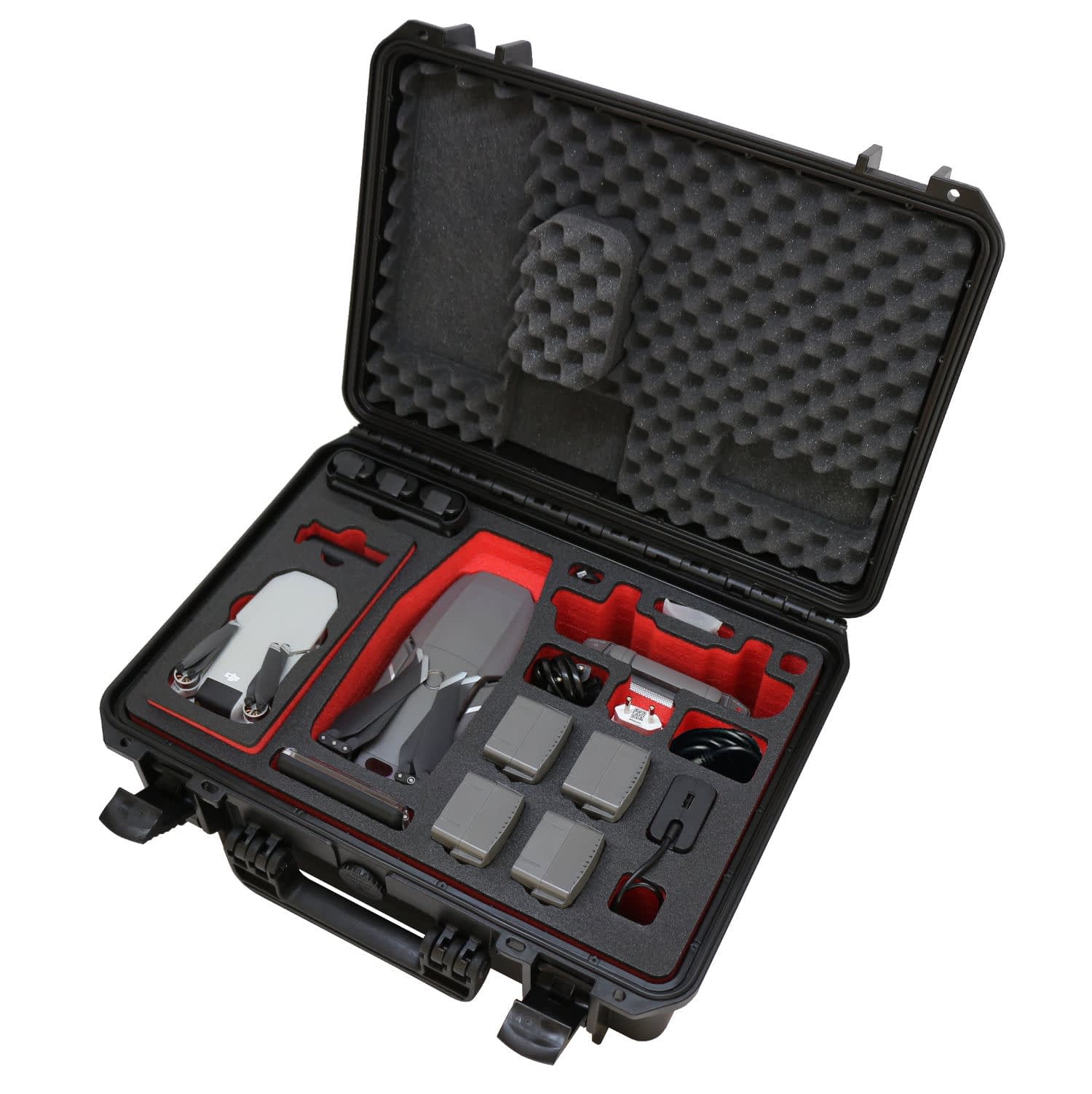 PROFESSIONAL DRONE CASE & BACKPACK
for DJI Mavic 2 Pro / Zoom and plenty of accessories
The case is waterproof and contains high quality inlays precisely cutted for maximum protection during transport and whilst being stored.

Inlays are made from top class rigid foam with fine pours exactly adjusted to drone and accessories
Professional drone case for pilots of Mavic 2 Pro

Outdoor case XT235 "Compact Edition" is the smallest case available for Mavic 2 copter and accessories. It is as small and compact that it is possible to store it in a backpack or bag. The drone case offers room for Mavic 2 (folded) with mounted propellers and with or without gimbal cover. Motors are stored on the loose – thereby they do not touch the inlay and damage is prevented. It is possible to store also the standard remote control, one additional rechargeable battery and many equipment as cables or spare parts.
More storage space is offered by outdoor case XT300 "travel edition". Here it is possible to store DJI Mavic 2 Pro or Zoom (folded) plus rechargeable battery, mounted propellers and with or without original gimbal cover such as smart controller and its accessories or alternatively standard remote control with or without mounted 5,5" CrystalSky monitor. Furthermore it is storage space for one pair of spare control sticks, up to four rechargeable batteries, network and connection cable, USB-C adapter and fly more kit consisting of 4-way loading stroke with power adapter and cable management, car charger, powerbank adapter with connection cable and spare propeller. Precisely cutted cutouts offer additional storage space for camera filter and various memory cards. Below the copter section there is a cover which works as protection for spare propeller and/or cable or other accessories.
NEW is an additional pad made from soft foam which is attached in the indentation to transport the drone without original protection of the gimbal. Below the pad it is possible to store another camera filter.
Multifunctional backpacks with high quality inlays in proven TOMcase quality! Mavic 2 backpacks large and small makes you as a drone pilot more flexible and best prepared for longer walks. This professional outdoor backpack combines comfortable performance of a drone case and the athletic-urban design in a useful size of cabin luggage. So the elbowroom of your hands is never limited. Two seperated main compartements store your drone equipment independently of your backpack-gear: two backpacks in one – for an ideal and individual packing, adapted to your next adventure. The main compartement of the drone backpack can be opened completely. Its inlay is made of high quality rigid foam with fine pours which is adapted perfectly to Mavic 2 and its accessories. The construction of the inlay made of high quality rigid foam (PE) provides a safe storage of every single component. The inlay offers space for Mavic 2 drone (Pro/ Zoom or also Enterprise) and its accessories as smart controller, standard controller, fly more kit, many rechargeable batteries, network and connection cables, such a scharging management and more. Two additional compartements with lid offer space for more equipment.
The backpacks are robust and made of polyester. They are coated with PVC which makes them resistant and weatherproof. The backpack is water-repellent but not waterproof. The backpacks are featured by its large offer of space and by the daisy chains they are dedicated to "modular lightweight load-carrying equipment" (also known as MOLLE-system). Thereby you are able to fix additional bags for bottles, sleeping bags, signal lights and further outdoor equipment. The drone case is unisex and offers with its compact but large storage space a wide range of typical capabilities beside transport of drone. Therefore the second main compartment can be filled with different useful equipment. Additional there are two pockets in the front. All nemed compartements are provided with 2-way zippers and partially with organizer or pockets to store keys, pencils, carabiners and more. Back and abdominal belt (removable) are constructed ergonomically, padded and breathable and so appropriate for longer excursions. Volume control and fixation of luggage by straps complete the overall concept.
The case is made from shock-resistant polypropylen, which meets German military standard and assures you a safe transportation by car, plane or train.
The label "STANAG 4280 – DEF STAN 81-41" awarded by NATO makes these cases suitable for usage in a variety of situations where a high-class resistance against shocks and atmospheric impacts are required. These areas include: photography, outdoor sports, military, any special use, broadcasting and the manufacturing industry.
The outdoor case is suitable for temperatures from -30°C until +90°C (-22°F until 194°F), it meets the IP67 standard and is therefore 100% dust-, air- and waterproof.
This hardcase is break-proof and comes with a double-back locking system to install padlocks. Also included is a padded carrying strap. Stable hinge joints run the entire lenght of the casing making the case extraordinaryly solid. These contain special pins made from nylon and glass fibre which guarantees protection against corrosion. An automated equalising valve makes the case suitable for transportation by plane. Carrying comfort is easied by an ergonomic soft-handle.
Closest to our heart is "Custom made" perfection. That is why we combine the high quality of workmanship made in our own region (no import from Asia), with value for money and an efficient delivery service. You choose from different colours and flexible, multilayered foam inset.
We would be happy to produce individual inlays well adapted for your product.
Type
External dimensions
Weight
Colour of cases and Inlays
Pictures
XT235 Kompakt Edition Outdoor Case
Mavic 2 Pro/Zoom
259 x 244 x 188 mm
1 kg
black | red-black
XT235 Kompakt Edition Outdoor Case
Mavic 2 Pro/Zoom
259 x 244 x 188 mm
1 kg
black | black
XT235 Kompakt Edition Outdoor Case
Mavic 2 Pro/Zoom
259 x 244 x 188 mm
1 kg
orange | black
XT300 Travel Edition Outdoor Case
Mavic 2 Pro/Zoom
336 x 300 x 148 mm
1,8 kg
black | red-black
XT300 Travel Edition Outdoor Case
Mavic 2 Pro/Zoom
336 x 300 x 148 mm
1,8 kg
black | black
XT300 Travel Edition Outdoor Case
Mavic 2 Pro/Zoom
336 x 300 x 148 mm
1,8 kg
sahara | red-black
XT300 Travel Edition Outdoor Case
Mavic 2 Pro/Zoom
336 x 300 x 148 mm
1,8 kg
sahara | red-black
XT300 Travel Edition Outdoor Case
Mavic 2 Pro/Zoom
336 x 300 x 148 mm
1,8 kg
orange | black
XT300 Travel Edition Outdoor Case
Mavic 2 Pro/Zoom
336 x 300 x 148 mm
1,8 kg
blue | blue-black
XT300 Travel Edition Outdoor Case
Mavic 2 Pro/Zoom
336 x 300 x 148 mm
1,8 kg
blue | black
XT430 Team Edition Outdoor Case
Mavic 2 Pro/Zoom und Mavic Mini
464 x 366 x 176 mm
2,8 kg
black | red-black
Travel Edition Outdoor Rucksack Size S
Mavic 2 Pro/Zoom
240 x 450 x 260 mm
1 kg
black | black
Travel Edition Outdoor Rucksack Size S
Mavic 2 Pro/Zoom
240 x 450 x 260 mm
1 kg
anthracite | black
Ready-to-Fly Outdoor Rucksack Size L
Mavic 2 Pro/Zoom
300 x 500 x 320 mm
1,25 kg
black | red-black
Ready-to-Fly Outdoor Rucksack Size L
Mavic 2 Pro/Zoom
300 x 500 x 320 mm
1,25 kg
black | black
Ready-to-Fly Outdoor Rucksack Size L
Mavic 2 Pro/Zoom
300 x 500 x 320 mm
1,25 kg
anthracite | silver-black
Ready-to-Fly Outdoor Rucksack Size L
Mavic 2 Pro/Zoom
300 x 500 x 320 mm
1,25 kg
anthracite | black
XT465 RTF Edition Outdoor Case
Mavic 2 Pro/Zoom & Enterprise Zoom/Dual
502 x 415 x 141 mm
2,6 kg
black | red-black
BUILT TO PROTECT
TOMCase at Lake Constance